Denali Awaits
Nestled on Sugarloaf Mountain overlooking Denali National Park. Denali Crow's Nest Cabins is your personalized base camp for adventure.
Our final day of service is September 19th. We hope to accommodate one last time you before closing for the season!
Closed For The Season
Call now or book online today!*
We are currently offering a 15% Discount for Alaskan Residents and Active Duty/Retired Military. Also, AAA and AARP members will receive a 10% Discount. Be sure to ask about our current specials!
Each exquisite, hand-built cabin features tasteful alpine furnishings, elegant décor and en-suite restroom. Our cabins feature premier amenities such as high-speed internet access, flat panel TV, and premium toiletries.
* Restrictions apply
Dall Suites and King Grizzly Cabins
Enjoy your Denali experience in a Dall Suite or King Grizzly Cabin. Our luxury pillow-top bed will leave you rested for your day in the park. Inquire about our Dall Suites with a pull-out sofa.
Moose Cabin
Our Moose Cabins offer all the amenities of the Crow's Nest along with the promise of a great sleep in our deluxe queen beds.
Carribou Cabins
Perfect for a family. Our Carribou Cabins offer two full beds and all of the perks of the Crow's Nest. Get in for a good night's rest and get on the trail refreshed!
Explore Denali National Park
Your trip into Denali Park will be an experience of a lifetime. Book your tour through the National Park. If you would like advice on which trip to choose, our friendly front desk staff is happy to assist you.
Book exciting adventures with us at discounted rates. From glacier landings and flight seeing, to rafting, fly fishing, and more!
Overlook Restaurant
Fresh Alaskan Cuisine with Denali views since 1985. Enjoy the picture windows and open patio overlooking the Alaska Range and Denali National Park with a hand crafted cocktails or local brew in hand. Then, settle in for Alaskan fare that is a feast for the eyes as well as your taste buds!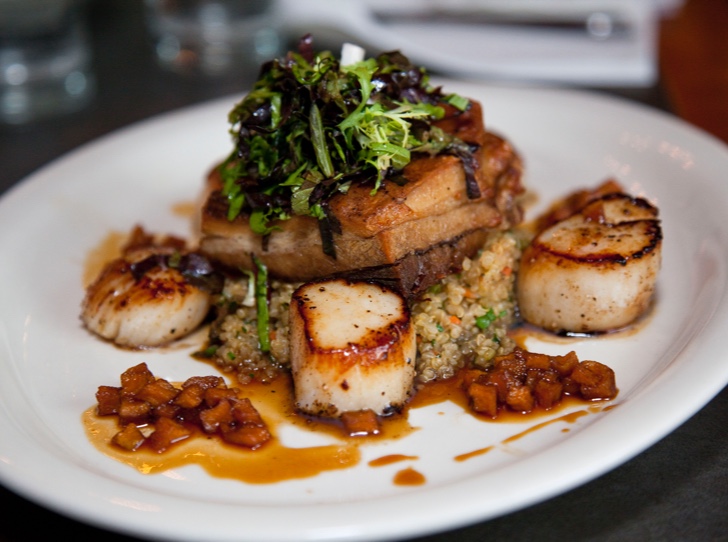 Ready to Start Your Denali Adventure?
Contact our Front Desk agents today and turn your Denali dreams into reality!