Denali Awaits
Nestled on Sugarloaf Mountain overlooking Denali National Park. Denali Crow's Nest Cabins is your personalized base camp for adventure.
NOTICE:
Because of COVID-19 we will also not be offering our breakfast buffet, and have reduced some other services offered. As such, June rates are discounted to reflect this.
Book your stay in June and Save $100 on the Best Lodging in Denali.
We are currently offering a 15% Discount for Alaskan Residents and Active Duty/Retired Military. Also, AAA and AARP members will receive a 10% Discount.
Each exquisite, hand-built cabin features tasteful alpine furnishings, elegant décor and en-suite bath and shower. Our cabins feature premier amenities such as high-speed internet access, flat panel TV, MP3 alarm clock radio and premium bath and toiletries.
King Bed Cabin
Enjoy your Denali experience in our King Cabin. Our luxury pillow-top bed will leave you rested for your day in the park. Inquire about our Deluxe Kings with a pull-out sofa.
Single Queen Cabin
Our Queen Cabins offer all the amenities of the Crow's Nest along with the promise of a great sleep. Inquire about our Deluxe Queen cabins with a pull-out sofa.
Double Full Cabin
Perfect for a family. Our Double Full Cabins offer two full beds and all of the perks of the Crow's Nest. Get in for a good night's rest and get on the trail refreshed!
Explore Denali National Park
Due to the drop in tourism this season, Denali National Park and Preserve is offering more permits than ever for you to drive your personal vehicle into the park for a truly Alaskan experience.  Explore the park at your leisure and have an unforgettable experience.
Book exciting adventures with us at discounted rates. From glacier landings and flight seeing, to rafting, fly fishing, and more!
Overlook Restaurant
907.683.2723 – Please call for reservations
---
At the Overlook, we are food obsessed. Our central philosophy is "Farm to Table and Port to Plate". While many restaurants tout similar goals, our access to the best of what Alaska offers means we can make that statement jump off the plate into uncharted territory.
Our culinary endeavors tac from classic comfort to modern style with opportunities to explore the bounties of land and sea in the great northern frontier. In true Alaskan style, you can enjoy views of Denali National Park in cozy mountainside comfort. Guests at our bar feel like they've struck gold when they see the world at their fingertips. Hand-crafted cocktails, barrel-aged drinks, a cruvinet filled with wines, and plenty of hand-selected craft beers are available.
Take a seat, our staff is ready to meet your every whim.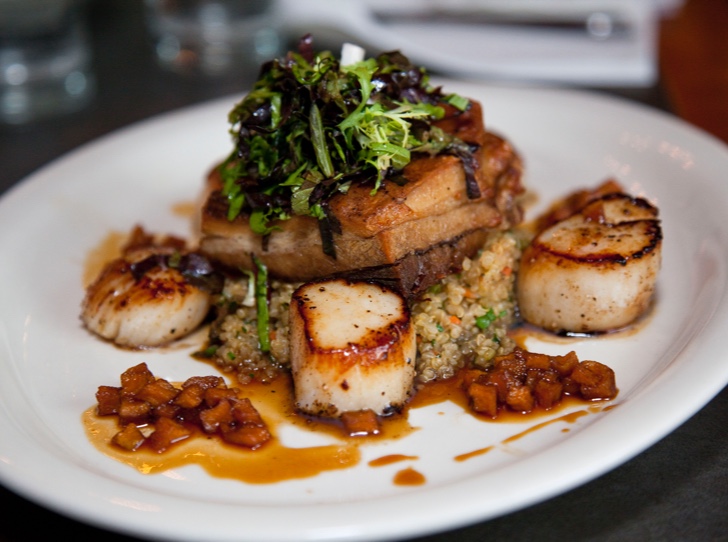 Ready to Start Your Denali Adventure?
Contact our Front Desk agents today and turn your Denali dreams into reality!